Jose Benavidez Jr.
One of boxing's brightest and most talented prospects, Jose Benavidez Jr., is a Mexican American professional boxing currently fighting in the Welterweight division. Benavidez Jr. was an eleven-time national champion, including the Silver Gloves twice, qualifying for the Junior Olympics and earning a spot on the U.S. National Team, en route to a gaudy 120-5 amateur record. Benavidez is Also the 2009 National Golden Gloves Champion, Making him the youngest ever Golden Gloves Champion at only 16 years young. At just 24 years old, Benavidez won his first world title WBA belt. Benavidez holds an impressive record of 27 (18 KOS) - 1, with many more wins to come.
Taking a turn for the worst.
At age 26, with an impressive undefeated record, Benavidez's world took a turn for the worst. Benavidez was shot in the leg while walking his dog in Phoenix, Arizona. Doctors told Benavidez that his boxing career would come to an end, and he would never be able to walk again.
With multiple rods and screws in his leg, Benavidez was determined to get back into the ring. However, this was not an easy task, as it would take time, dedication, and lots of hard work.
After two years of rehabilitation, learning to walk again, and all the basic movements, Benavidez was ready to train again. Benavidez's first fight back in the ring was a success with a first-round knockout. Even though Benavidez was fighting again, his leg was still recovering significantly.
Actual x-ray of metal rods and screws in leg currently.
Actual photo of stiches after surgery.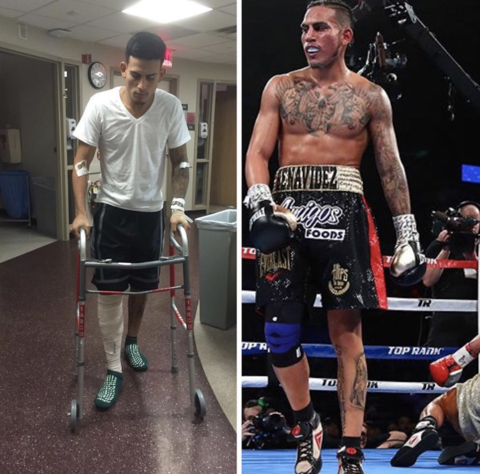 The Return.
The recovery process will always continue, as the rods and screws embedded in his leg will always remain.
After 2 years of recovery and rehabilitation, Benavidez returned to the ring in 2018 as a welterweight. Benavidez took easy wins against Mathew Strobe and Frank Rojas with a first round stoppage.

A few months later, Benavidez would return to the ring against Terrance Crawford in a 12 round bout for the WBO Belt. As the fight went on, Benavidez leg was truly put to the test. The fight was called off in the last few rounds and Crawford was able to retain his title.
Taking some time to focus on his recovery and family, Benavidez is ready to return and take back his place in the ring as Champion.
CBD Recovery products have played a vital role in ensuring his legs are healthy and recovery properly from training throughout his road to recovery, which has inspired Benavidez to release his very brand containing the highest grade CBD and quality products. Check out the products here.